Nov 17, 2023
In this episode of Hilary Topper on Air, join Hilary as she speaks with two remarkable individuals who are redefining the boundaries of athletic achievement and philanthropy. Meet Jack Thompson, a professional Australian cyclist, and Yuri Hauswald, Elite Athlete Manager at GU Energy Labs.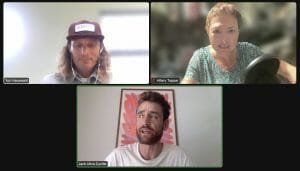 About the Interview
Hear from Jack, a record-breaking cyclist with numerous Guinness World Records and World Firsts, and Yuri, the Elite Athlete Manager at GU Energy Labs. They both bring a wealth of experience and passion to the discussion.
In 2022, Jack raised an astounding $500,000 for non-profits as part of his mission to become the first cyclist in space. We unravel the details of this incredible initiative and the profound impact it had on the charitable causes he supported. Additionally, Jack shares insights into overcoming drug addiction, offering advice for others facing similar challenges.
Yuri discusses the innovative approach of focusing on "complete" athletes who not only excel in their sports but also champion charitable causes. We explore the alignment of this approach with GU's charitable foundation, GU Gives, and Yuri's inspiration for this shift. Yuri shares insights into the criteria used to identify athletes with a genuine commitment to making a positive impact on society. We learn about the selection process for partnerships that go beyond athletic prowess, emphasizing the importance of a holistic approach.
About Jack Thompson
A professional ultra-cyclist born in Perth Western Australia, Jack relocated to Girona, Spain in 2019. Referred to in the media as 'the most extreme cyclist on earth,' Jack pushes the boundary of what is humanly possible on a bike, exploring the limits of human physiology both physically and mentally. Jack holds multiple Guinness world records and the fastest known times (fkt's) around the globe and is an active and passionate advocate for mental health disorders.
About GU Energy Labs
GU is a team of problem-solvers and makers guided by their purpose to nourish and inspire everyone to experience the joy of movement in whatever form they choose. Their hydration, energy, and recovery products are specifically formulated to empower you to challenge yourself and achieve your personal goals while having the most fun possible!