Sep 1, 2023
Why should people have a Will? It's a question that often lingers in the minds of many individuals. A Will serves as a powerful tool that allows you to dictate your wishes regarding the distribution of your assets, guardianship of your children, and even the management of your digital presence after you're gone. It provides peace of mind, ensuring that your loved ones are taken care of and your legacy is protected. In this episode of Hilary Topper on Air, Hilary speaks with Vincent J. Russo, managing partner at The Russo Law Group, P.C.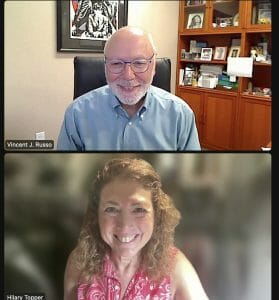 About the Interview
The interview explores the paramount importance of having a Will as a cornerstone of estate planning, shedding light on the key benefits it provides, such as asset distribution, guardianship of children, and digital presence management. Vincent and Hilary unravel the common misconceptions that deter people from creating a Will and discusses the staggering statistics of those who neglect this essential document. Drawing lessons from celebrity estate planning mishaps, they underline the repercussions of inadequate planning. Delving into specific case studies like David Bowie's estate, Vincent offers invaluable insights. Additionally, the episode touches upon other essential estate planning documents and the importance of regular updates. Vincent guides listeners through the complexities of creating a legally valid Will and offers practical advice for those starting their estate planning journey.
About the Russo Law Group, P.C.
Russo Law Group, P.C. is a highly regarded law firm specializing in estate planning, elder law, and special needs planning. With offices in Garden City, NY, the firm has been providing comprehensive legal services and guidance. Led by a team of experienced attorneys, the Russo Law Group, P.C. is committed to delivering personalized and effective legal solutions tailored to each client's unique circumstances.
To connect with Vincent to learn more about this crucial topic and get the expert advice you need to secure your legacy, visit www.vjrussolaw.com.